VIA FERRATA
Open from May to October - reservations necessary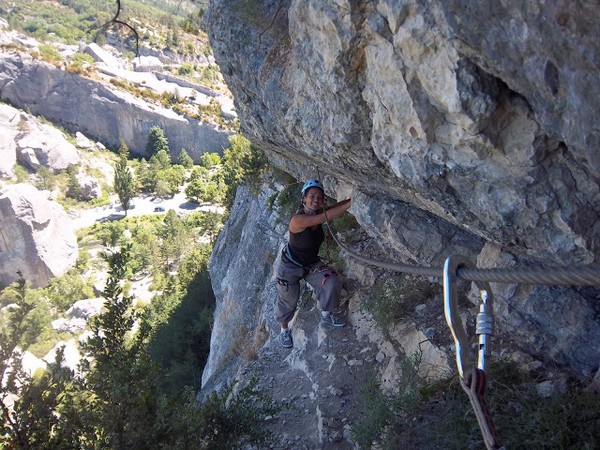 1/7


1/7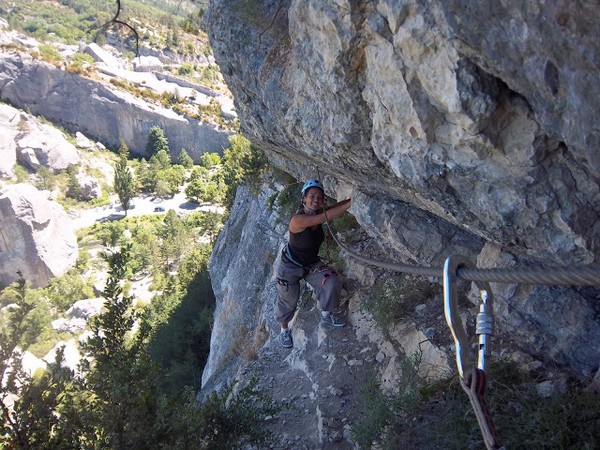 Also called "Vertical Hiking" the routes of the Via Ferrata are midway between
walking
and
climbing.
Whilst these routes are open to the public you are nevertheless advised not to angage on these routes without knowledge of the use of the appropriate equipment. You will follow a roped route secured to the rock wall provided with metal stairs, steps suspended beams and gateways thus aidinf your progress.
All this equipment will help you to climb more easily to the summit whithout having to rely on standard climbing techniques. Throughout your aerial journey you will have access to unobstructed views of the Provencal countryside in the Drome valley.
Our services are mainly directed at these two itineraries :


Via ferrata


Altitude from


Slope lenght


Approach walk
Retum walks


Description

Via the Claps
2 to 3 hours

600 to 800 metres

200 m to
650 m
2 minutes
25 mins
No particular difficulty, no monkey bridges, no great scale.
A remarkable location, the Claps is the result of a shift of a slab on the southem flank of the peak de Luc which breaks into large chunks blocking the river Drome.

Via the Chironne
2 hours 30 mins

1195 to
1415 metres
220 to
500 m
5 minutes
25 mins
Overhanging drops.
A beautiful journey overlooking the valley of the Drome.

Specific equipment supplied
: harnesses equipped with a double absorbing lanyard, helmets.
Conditions
: good physical condition, minimum age 10 years.
Advice
: bring a pair of walking shoes, suitable sporting clothing, backpack with water bottle and fruity cereal bar.
Price
: 35 € per adult / 33 per child.
Minimum of 6 participants. This activity is led by a state qualified peron.