At the heart of Drome Provencal between the regional natural park of the Vercors and the massif of the Diois, the river Drome has carved a way through the limestone cliffs and picturesque villages : Die, with its Clairette, Crest and its famous tower and Saillans with its numerous beaches.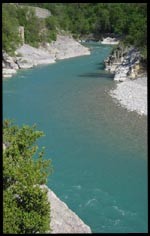 The absence of major developments, the undisturbed flowing river, the exceptional ecological value of certain sectors, the absence of large development and industry contribute to make
a watershed of the Drome, a remarkable sight with exceptional potential.

The source of the Drome river is in the heart of the Diois and extends more than 100 kms where it enters the river Drome.
It is navigable along nearly 60% of its lenght and loses around 400 metres in elevation
between the landslide of Claps and the town of Crest. The geographical location affords maximum heating from the sun. Up to 24 degrees in summer.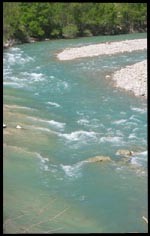 Green tourism in the valley of the Drome and the attraction of the river have been an important development in the last 15 years particularly in the improvement of the quality of the water.
The river Drome and its tributaries are indeed swimmable along more than 80% of their length. This river, the largest in the department, provides more than 60 kms of paradise for water sports enthusiasts.
The richness of its landscapes and the diverstity of its rapids will enchant beginners as well as the more experienced.
EVA Location is situated midway between Die and Crest, you can therefore discover the entire length of the river.