RAFTING
Open from October to May, reservation necessary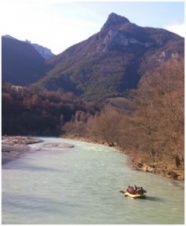 Weather conditions permitting, the river begins to swell and we can take to the rafts.
You embark onto an inflatable boat which can take up to 8 people. Before your departure a state qualified person will give you a short briefing and safety instructions.
He will be at the point of departure and will direct you during the descent of the river. Your descent finally begins once in the unsinkable raft there is nothing more to do.
The aim of the game is simple simply to avoid the rocks and various other obstacles which you will find on your journey. Your team will be following closely as you travel down the river.
You will sail while enjoying the magnificent countryside surrounding the river Drome.
Admire the panorama when the flow of the water slows but remenber to stay concentrated and alert as water is everywhere.

Specific equipement supplied
: rafts for 8 persons, neoprene suits, life jackets, helmets and paddles.
Conditions
: Be able to swin, minimum age 6 years.
Advice
: Bring closed shoes.
Price
: 33 € per adult / 31€ per child.
Minimum of 6 persons this activity is led by e state qualified person.