CANYONING
Open from April to October - reservations necessary


1/5


1/5


The canyons are mountain torrents whose beds are formed by erosion and carving from the rocks they traverse.
It is in these calcaire regions in the south of the Drome we discover the finest canyon descents.
Situated between the massif of the Vercors and of the Diois this region provides a number of canyons much appreciated by mountaineers and other amateur sportsmen.
Canyoning takes you through a bed of torrents. You will cross landscapes that you will not see anywhere else as the water meanders through lush flora and a breathtaking atmosphere.
During your descent you cross the waterfalls by rope, you slide down natural slides to end up in large pools and sumptuous water. Then chain jump and swim in deep and narrow basins.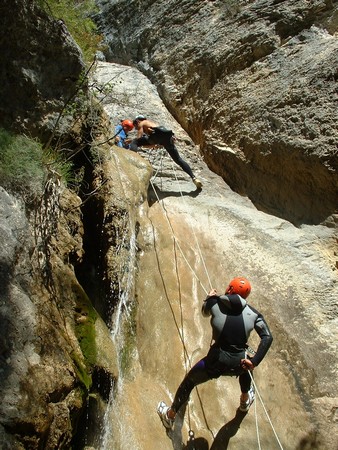 Specific equipment supplied
: neoprene suits, downers, harnesses, helmets and rope.
Conditions
: be able to swim, minimum age 10 years.
Advice
: bring closed shoes.
Price
: half day (2 - 3.5 hours) 35€ per person or 40€ per person
Whole day (4-6 hours) 60 € per person.
This activity is led by a state qualified person.